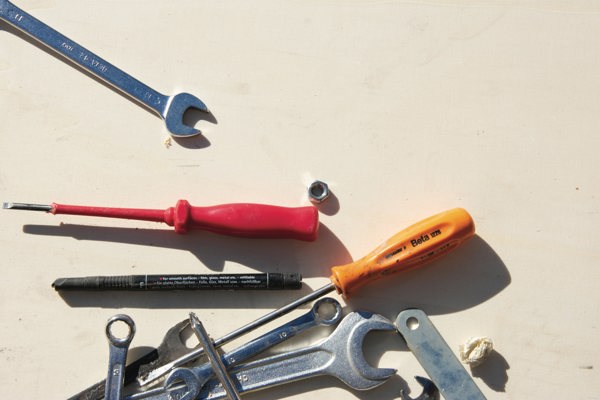 There are four key reasons why property maintenance is fundamental to effective property management.
1.  Protects the people living in your property
Every rental property owner wants their rental customers to feel safe and happy at home. Good property maintenance plays a huge part in this. It can prevent your rental customers' items from being damaged by mould or leaks, avoid undue stress and even directly impact the health of those living in the property.
2.   Preserves your rental investment
Fixing a small issue promptly and properly can save your property investment from significant damage and repair costs down the line. Regular property maintenance is the best way to protect your investment and ensure it will be long-lasting. Proactive maintenance is also a great way to add value to your rental property.
3.   Builds trust with rental customers
Thorough property maintenance can help you to create a stronger relationship with your rental customers. Demonstrating that you listen to their concerns and care about their wellbeing is a huge step towards building trust. Rental customers who trust you are more likely to have longer tenancies, treat your property with care and let you know if they have any maintenance concerns.
4.   Your insurance policy probably requires it
If you read the fine print on your insurance policy, you'll likely find that you are required to carry out regular property inspections and practice good property maintenance. To avoid any potential claims being voided, it's essential that you meet these requirements.
Who is responsible for what?
Both property owners and those living in the property are responsible for keeping the property in good condition. The Residential Tenancies Act 1986 (RTA) largely specifies who is responsible for specific property maintenance tasks. However, there are a few grey areas which have not been outlined in the legislation. These can sometimes lead to misunderstandings and disagreements.
HOT TIP
If the responsibility of something is not clearly outlined in the RTA, it's a good idea to agree whose responsibility it will be before commencing the tenancy. Note this on your tenancy agreement. This can prevent confusion or misunderstandings down the line and ensures both parties are on the same page. Replacing light bulbs is a great example of this!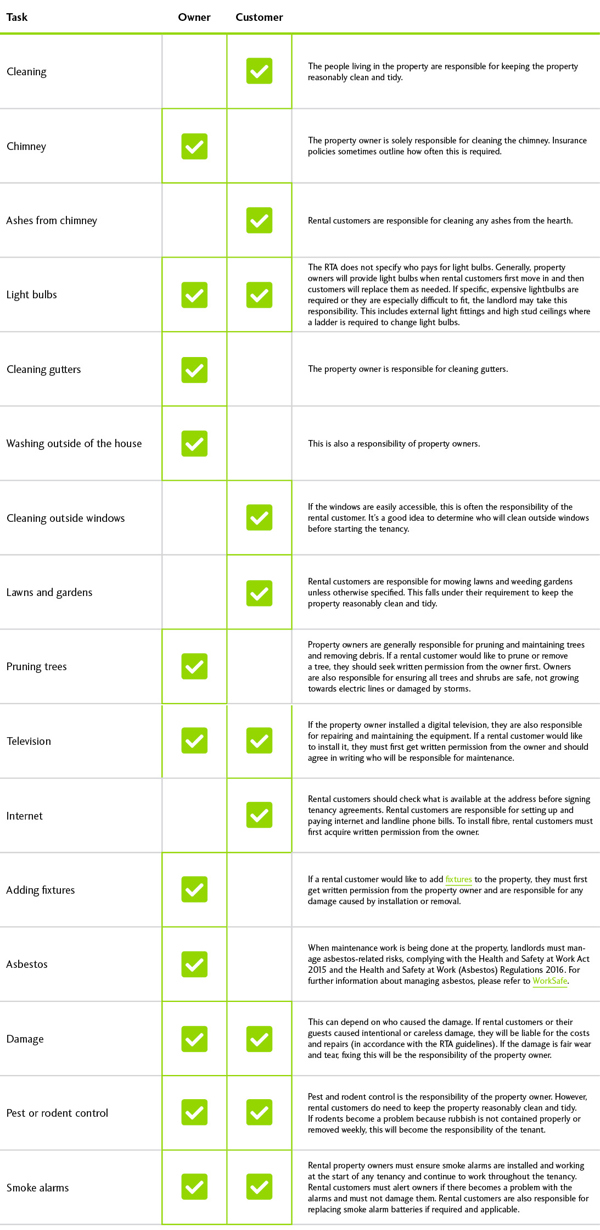 What does 'fair wear and tear' mean?
According to Tenancy Services, 'fair wear and tear' refers to "to the gradual deterioration of things that are used regularly in a property when people live in it." Examples of this include bathroom taps leaking, carpet getting worn and stove elements wearing out from cooking. Damage caused by rental customers such as drink stains or holes in the wall would not normally be considered fair wear and tear.